Rusii au tzari si presedinti audiofili !

http://iceaxe.livejournal.com/738534.html
" onclick="window.open(this.href);return false;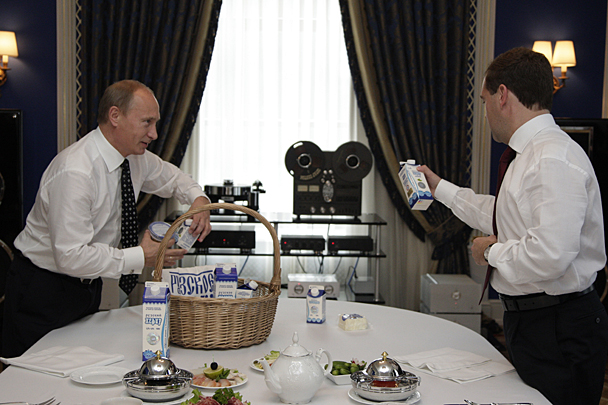 On Friday Medvedev invited Vladimir Putin to his Moscow residence for a simple breakfast of milk and brown bread. The meeting was meant to reinforce the two leaders' unity and their humble love of patriotic dairy products.

Sharp-eyed bloggers, however, spotted Medvedev's extraordinary stereo lurking in the background. Experts estimated it was worth up to $200,000 (£130,000). It includes giant speakers, a CD player, amplifiers, and other expensive gadgets. It is not clear whether the stereo belongs to Medvedev himself – a Deep Purple fan and keen vinyl enthusiast – or is the property of the state, in this case the Russian Federation. Either way, it is a tantalising clue in a country where any mention of Putin or Medvedev's personal wealth is strictly taboo.

Bloggers seemed unimpressed by Medvedev's choice of audio equipment, much of it made in Britain (including a bespoke Avid Acutus Reference SP turntable, made in Huntingdon, Cambridgeshire, and two Swiss-made Daniel Hertz M1 speakers, costing a cool $75,000 a pair, it was estimated.)

One blogger, yarosh, declared: "The experts I've talked to tell me this is a bit of a vulgar stereo complex. There's nothing special about it. You can find something cooler and cheaper in Russia and, most crucially, with a superior sound." Others wanted to know why Medvedev had not bought a Russian model and whether he had paid for it himself or used taxpayers' cash. "If the stereo belonged to Obama, or any European leader, this would be a scandal rather than a joke," one blogger, westernstorm, pointed out.

Official photos from the meeting show Medvedev crouching down to change the CD. It is not clear, though, whether the meeting took place against a backdrop of Deep Purple and British rock from the 1970s. Putin, for the record, is said to prefer listening to patriotic ballads.

"Yes, Guy, thanks. The images are making waves for day among Russian audio sites. Unfortunately in Russia expensive playback is a part of "successful mad room décor" and prominent Russian love to pose wearing ridiculously expensive watches, behind the wheel of super- exotic cars or fingering an absurdly long-legged woman. I find it a bit chip and generally we in US went over it years back. The New England rich people do not have a need to show off. So, I am afraid that hi-fi decor that Kremlin press decided to use is no more than just a background décor, sort of still-life space holders. Why in fact I am afraid? I do not afraid, I do not care…

What however I feel is shameful in the images above, besides bad taste, is that fact that a president of a country and prime-minister of a county did not find own country audio to make the pictures. Presidents do not plug commercial products. When somebody from White House interviewed then they cover the Apple or IBM logos on computers and brands of microphones and cameras – WH is not a place for products placement. This is understandable and everyone works along with it. Even if a President does decide to use his office for commercial advertising then use products of your fucking country. I can't imagine that Clinton, Bush or Obama would make picture from WH' resentence while they are hugging a China-made turntable or a German vacuum-cleaner. I think the images above are a slip or this public relation office. If he wanted to demonstrate himself as an audio person the n it had to be products of his country."